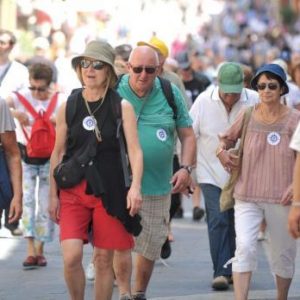 Tourist arrivals in hotels increased in May but the number of bednights was down, official figures issued today show.
The NSO said that arrivals and nights in collective accommodation establishments during May stood at 124,778 and 659,892 respectively. The average length of
stay was estimated at 5.3 nights.
Foreign arrivals were estimated at 116,142, an increase of 2.8 per cent when compared to the corresponding month in 2010. Despite this increase, there was a drop of 3.4 per cent in the number of nights spent by foreigners, which stood at 643,018.
All types of collective accommmodation establishments registered drops in the number of nights vis-a-vis last year, leading to a 0.2 of a night decrease in the average length of stay.
The number of local resident arrivals and nights also declined during May and stood at 8,636 and 16,874 respectively. Drops were registered in all collective accommodation establishment categories, except 2-star hotels.
The net occupancy rate in collective accommodation establishments was estimated at 54.7 percent, down by 3.5 percentage points when compared to last year.
The occupancy rate for non-residents stood at 53.3 per cent, while the rate for local residents was 1.4 per cent.
In a regional overview, the NSO said total arrivals in Malta amounted to 118,434, an increase of 1.7 per cent over last year. The number of nights spent in Malta decreased by 3.4 per cent. As a result, the average length of stay edged
down by 0.3 of a night.
In Gozo and Comino, both arrivals and nights registered drops when compared with 2010 and stood at 6,344 and 19,537 respectively. Although the reported
number of nights spent in collective accommodation establishments in Gozo was 23.3 per cent less than the previous year, the average length of stay was practically unchanged.
The occupancy rates for May, for both Malta and Gozo went down by 3.5 and 6.5 percentage points respectively. In comparison with last year, there was a decrease of 1.9 percentage points in the occupancy rate for residents in Gozo and Comino, which stood at 9.9 per cent
Capacity
Total bedrooms in the Maltese Islands amounted to 18,183, of which 95.5 per cent were in Malta.
The number of bed-places in Malta stood at 37,196, up by 2.6 per cent when compared to 2010 levels. On the other hand, the number of beds in Gozo and Comino decreased by 188 from last year. Overall, the number of bed-places per room was calculated at 2.1